What is the Fastest Mercedes-Benz Car?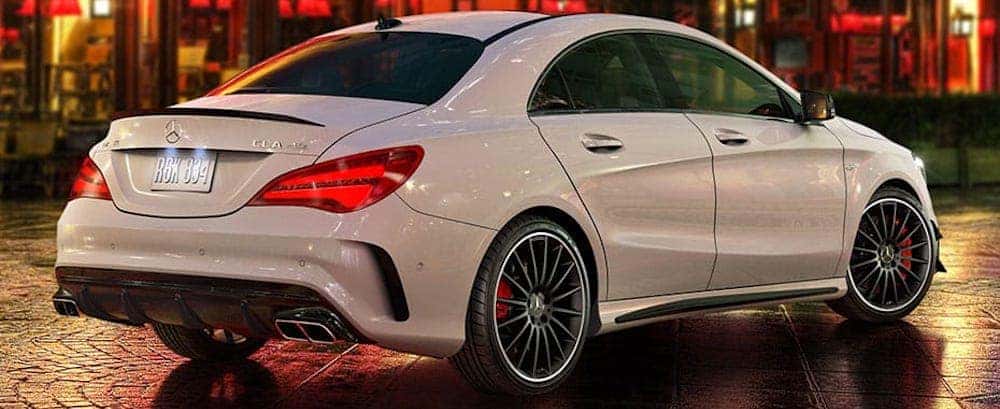 Throughout automotive history, the Mercedes-Benz logo has donned plenty of fast vehicles. There cannot be a single Mercedes-Benz model that is the fastest, but there are five models that all rank at the top. When you get behind the wheel of a Mercedes-Benz vehicle and drive it on the Sussex roads, you can anticipate piloting a vehicle that's not only luxurious and comfortable but also offers effortless power as well.
There are certainly many Mercedes-Benz models that provide incredible performance, but what is the fastest Mercedes-Benz car? Fortunately, the offerings from Mercedes-Benz all provide unbeatable performance, however, there are some models that are quicker than others. If you are looking to get behind a luxury racecar, we're here to help at Mercedes-Benz of Newton. Review the fastest models below, and choose the model that is right for your Hackettstown lifestyle.
5 Fastest Mercedes-Benz Cars From the Past
From its inception, Mercedes-Benz has produced vehicles that'll excite anyone that gets into the driver's seat of any of its vehicles. With such a heritage for performance, it's no surprise that through the years, there have been some incredibly quick performance vehicles from Mercedes-Benz.
Whether you have been keeping your eye on the Mercedes-Benz Roadster or the Mercedes-Benz GT, there are various Mercedes-Benz models that offer the powerful performance that you're looking for. When trying to rank the top 5 fastest Mercedes-Benz models here are some of the ones you'll come across:
2007 Mercedes SLR McLaren 722
2009 Mercedes SLR Stirling Moss – 3.5
2014 Mercedes-AMG® SLS Black Series
2015 Mercedes-AMG® E 63 S
2017 Mercedes-AMG® CLS 63 S 4MATIC®
5 Fastest Current Mercedes-Benz Models
Although there's an impressive amount of performance to be enjoyed when you're choosing a classic Mercedes-Benz model, the current lineup also has all the performance you need for an exciting drive around Hamburg. Each of these new Mercedes-Benz models not only provides incredible speed, but they'll also keep you comfortable as well thanks to the latest and greatest features. If you're looking for comfort and performance, the newest Mercedes-Benz vehicles won't let you down. Let's take a look at the five fastest current Mercedes-Benz models and their 0 to 60 mph times:
2022 Mercedes-Benz AMG® E 53: 0-60 mph in 4.3 seconds*
2022 Mercedes-Benz AMG® CLA 45 Coupe: 0-60 mph in 4.0 seconds*
2021 Mercedes-Benz AMG® GT Black Series Coupe: 0-60 mph in 3.1 seconds*
2022 Mercedes-Benz AMG® SL 63 Roadster: 0-60 mph in 3.5 seconds*
2021 Mercedes-Benz AMG® GLA 45: 0-60 mph in 4.4 seconds*
AMG® Models
If you pick an AMG® Mercedes-Benz model, you are choosing plenty of performance features that help keep you excited about driving around Newton. AMG® models include a powerful engine, more immersive handling, and bolder designs to ensure that you're really experiencing what it's like to drive a true performance vehicle. Choose a new Mercedes-Benz AMG® vehicle, and we promise you won't be let down.
Find a Fast Mercedes-Benz Model Today at Mercedes-Benz of Newton!
You can learn more about Mercedes-Benz performance models when you give us a visit in Newton. If you have any questions about the selection of luxury vehicles in our inventory, you're more than welcome to reach out to us online for additional assistance! We can't wait to begin working with you at Mercedes-Benz of Newton.
*Stated rates of acceleration are based upon manufacturer's track results and may vary depending on model, environmental and road surface conditions, driving style, elevation and vehicle load.
More from Mercedes-Benz of Newton
There's nothing like driving a new Mercedes-Benz vehicle on the Sussex roads. It features an extremely luxurious interior and a driving experience that's unlike any other. However, one particular model that's especially popular is the 2022 Mercedes-Benz GLC SUV. The new Mercedes-Benz GLC SUV provides everything you typically know and love about Mercedes-Benz models in…

The Mercedes-Benz C-Class sedan has returned for the 2022 model year, and you can expect it to provide impressive performance on the Sussex roads while offering a luxurious interior that stands out from the competition. The new Mercedes-Benz C-Class sedan provides some updates and features to take your Hackettstown adventures to the next level. But,…

Throughout automotive history, the Mercedes-Benz logo has donned plenty of fast vehicles. There cannot be a single Mercedes-Benz model that is the fastest, but there are five models that all rank at the top. When you get behind the wheel of a Mercedes-Benz vehicle and drive it on the Sussex roads, you can anticipate piloting…