AMG® Performance Parts

If you are shopping for a new Mercedes-Benz in Sussex or Hackettstown, consider upgrading your search Mercedes-Benz AMG® models available at Mercedes-Benz of Newton. These are specially-designed models with AMG® performance parts for higher horsepower, better traction, and more. Explore how you can modify your Mercedes-Benz with genuine OEM parts, and contact our parts center to learn more!
What is AMG®?
Mercedes-Benz AMG® performance models are built with handcrafted racetrack-inspired engines, known for efficiency and power, as well as improved traction, and smoother handling. Having his type of vehicle means bringing Mercedes-Benz prowess to the streets of Hackettstown. AMG® options are available on most Mercedes-Benz models like the C-Class, GLC SUV, and GLE SUV on upgraded trim levels. AMG® performance features include:
4.0L biturbo V8 engine
Lightweight 4MATIC® all-wheel drive system
Launch control
Selectable drive modes
Dual- and multi-clutch technology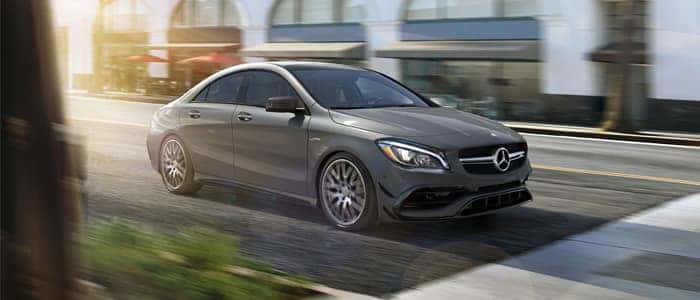 When you take an AMG® model to the streets, you won't be disappointed in what you find it can do as these engines were originally built for racing. When you opt for an AMG® upgrade, you're receiving the best out of your Mercedes-Benz model's performance.
What Are the AMG® Performance Parts?
AMG® vehicles come with specially-designed parts that allow for better performance and an added sporty flair.
AMG® Wheels: Mercedes-Benz AMG® wheels can even be upgraded to larger sizes and different finishes based on your preferences.
Mercedes-Benz AMG® Rims: You can also choose new wheel center caps or upgraded Mercedes-Benz rims to show off your personal style.
AMG® Headlights: These headlights provide a broad spectrum of light to light up the night and see better when going around corners.
Mercedes-Benz AMG® Extras: Replacement parts like bolts and dipsticks are available, along with logo stickers are available and instrument cluster stickers to clearly label the gauges and essential information you need while driving.
Experience AMG® Performance at Mercedes-Benz of Newton
Contact us for a test drive near Hamburg to experience the thrilling performance in person. Be sure to also check our rotating new vehicle specials so you don't miss out on a great Mercedes-Benz offer!
More From Mercedes-Benz of Newton
There's nothing like driving a new Mercedes-Benz vehicle on the Sussex roads. It features an extremely luxurious interior and a driving experience that's unlike any other. However, one particular model that's especially popular is the 2022 Mercedes-Benz GLC SUV. The new Mercedes-Benz GLC SUV provides everything you typically know and love about Mercedes-Benz models in…

The Mercedes-Benz C-Class sedan has returned for the 2022 model year, and you can expect it to provide impressive performance on the Sussex roads while offering a luxurious interior that stands out from the competition. The new Mercedes-Benz C-Class sedan provides some updates and features to take your Hackettstown adventures to the next level. But,…

Throughout automotive history, the Mercedes-Benz logo has donned plenty of fast vehicles. There cannot be a single Mercedes-Benz model that is the fastest, but there are five models that all rank at the top. When you get behind the wheel of a Mercedes-Benz vehicle and drive it on the Sussex roads, you can anticipate piloting…