Preview the Thrilling 2018 Mercedes-AMG® GT C Roadster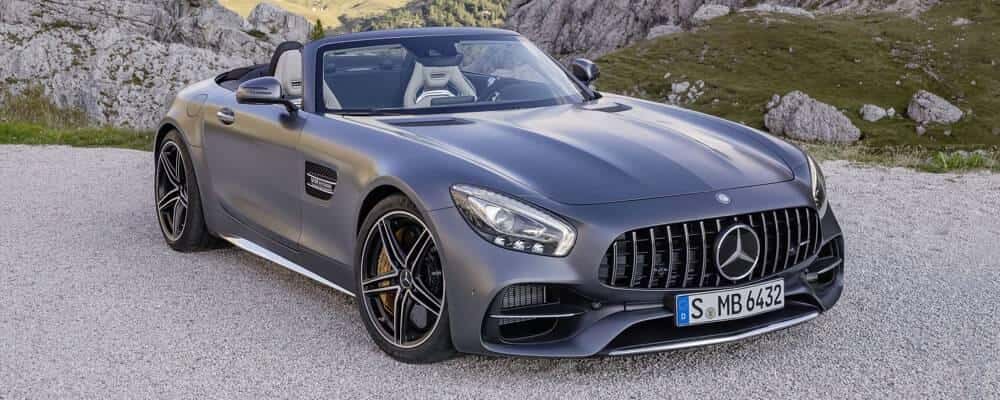 The Mercedes-AMG® nameplate represents a merging of luxury and performance that's hard to resist for true motoring enthusiasts. The more-than-favorable results can already be witnessed in sporty models such as the Mercedes-AMG® GT S and GT R. Now the commanding performance of AMG® finally makes its way to the convertible segment with the introduction of the upcoming 2018 Mercedes-AMG® GT C Roadster, a vehicle that just may leave your jaw on the floor. Get the inside scoop here from Mercedes-Benz of Newton, and then stop by our showroom to speak to our experts for all the latest.
View Our Current AMG® GT Inventory
Premium Fabric Soft Top
The 2018 Mercedes-AMG® GT C Roadster brings the thrill of the Mercedes-AMG® GT lineup to those who want to also enjoy the style and thrill of a cabriolet. The soft-top on this convertible boasts premium fabric in three classic colors: black, red, and beige. What's more, the high-quality fabric is held up by a structure made of lightweight magnesium, steel, and aluminum, and you'll have protection against rollovers via a cross-member with rollover bars made up of high-strength aluminum. You can even open and close the top while you're on the go in only 11 seconds and at speeds of up to 31 mph!
Staggering Performance Capabilities
The 2018 Mercedes-AMG® GT C Roadster represents the pinnacle of performance in a roadster, featuring a hand-crafted AMG® 4.0L bi-turbo V8 engine that uses dry-sump lubrication and gets a performance boost up to 550 hp and 502 lb-ft of torque. That's enough muscle for it to race from 0 to 60 mph in an astounding 3.7 seconds. Rear-wheel drive comes standard, as do other performance-enhancing features like AMG® DYNAMIC SELECT, an AMG® Performance Exhaust System, and an AMG® Sport Suspension.
Take Style and Performance to New Heights in the 2018 Mercedes-AMG® GT C Roadster
There are countless reasons for discerning sports car and drop top enthusiasts to be excited about the upcoming arrival of the 2018 Mercedes-AMG® GT C Roadster. Find out more about this all-new model at Mercedes-Benz of Newton In the meantime, however, take the opportunity to test drive any of our other Mercedes-AMG® GT models to get a little taste of the excitement the 2018 Mercedes-AMG® GT C Roadster is sure to bring. Our showroom is located at 92 Hampton House Rd in Newton, NJ and is open Monday through Saturday. You can contact us directly at (877) 870-6109.